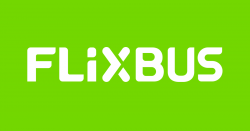 In Brief:  
FlixBus is a European long distance mobility provider and a brand of the FlixMobility group.  Since 2013, FlixBuses have offered a new, convenient and green way to travel which suits every budget. Thanks to a smart business model and an innovative technology, the startup has established Europe's largest intercity bus network in less than four years.
Corporate vision
"Our vision is smart and green mobility for everyone to experience the world."
Network
200,000 daily connections to 1,400 destinations in 26 countries (DE, CH, AT, FR, IT, NL, BE, LU, CZ, SK, SI, HR, HU, UA, RO, BIH, MNE, SRB, MKD, PL, DK, SE, NO, ES, PRT, UK); Domestic networks in Germany, Austria, France, Italy, Denmark, the Netherlands, Croatia and Czech Republic.
Passengers
30 million in 2016
And with ESNcard now you can have a 20% voucher on your trips that you can indicate on esncard.org or if you buy an ESNcard in a hungarian ESN organsiation.